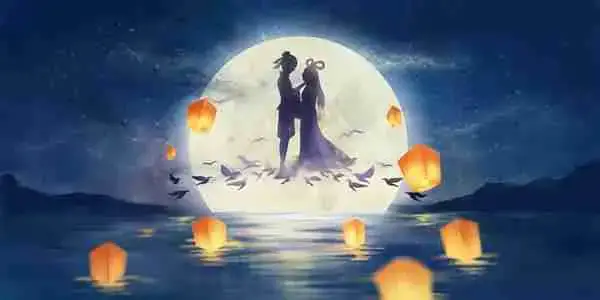 (Source: Sonofchina.com)
We typically know Valentine's Day to be on February 14th, but did you know in Chinese culture, Chinese Valentine's Day, also known as QIXI (七夕), is on the 7th day of the 7th month of every lunar year.
The festival is based on a romantic legend about Niu Lang and Zhi Nü.
According to Chinese myth, seven goddesses who lived in heaven secretly ventured to the mortal world one night to do some exploring. When Niu Lang, spotted Zhi Nü, one of the seven goddesses, it was love at first sight. She stayed behind in the mortal world marrying Niu Lang. When the Goddess of Heaven discovered this, she ordered Zhi Nu to return to Heaven. QIXI celebrates the couple when they can reunite every once a year.
Nowadays, people usually celebrate this festival with grand romantic gestures, boxes of chocolates and longing for true love. 

We've got some special gift ideas from Qipology.
1. Silk Mask
It's hard to find a beautiful mask to match ladies' everyday outfit. Our masks feature hand-embellished crystals to give you the extra sparkle. Made of 100% silk, they are not only breathable, less friction and also won't ruin make-up. Gift her this silk mask to keep her safe and pretty all time under Covid. 
Click to see more
2. Cap Sleeves Cut Out Mandarin Collar Top
Bae loves to receive something special on this day. Featuring cut out details and a mandarin collar, this knitted qipao top is designed to add a contemporary touch to an otherwise simple concept. A little bit sexy but not too much, she will definitely love it! Available in cute dusty pink and cool girl black.

3. Knitted Qipao Cap with Pankou Button
The weather of indoor and outdoor are two extremes under this hot summer. Grab her a lightweight knitted qipao cape to keep her warm under the cold AC.
Available in four colorways: Black, Blush, Lilac & Grey.